If you are wondering if hiring a car in Dubai can be a good idea, you are in the right place! Let's find out everything you need to know about renting a car in the UAE: what are the pros and cons, what documents are needed, what are the cheapest and most reliable car rentals.
Hiring a car in Dubai, contrary to popular belief, can be really cheap and can be a great way to visit Abu Dhabi and the other emirates on a budget.
What are the best and cheapest car rentals in Dubai?
The easiest and fastest way to find the best and cheapest car rentals in Dubai is to search for them on Discover Cars, which compares in real time the best car rentals (local and international) and allows you to find the best offers. Another great alternative is Rentalcars.com which is owned by Booking.com and has a huge selection of the best deals.
With Discover Cars you can find exactly the car you need, at the best price and with the guarantee of booking through a reliable and renowned agency. I like Discover Cars because it selects only reliable, safe and quality car rentals, offers excellent assistance and allows you to book your car safely and correctly in just a few clicks.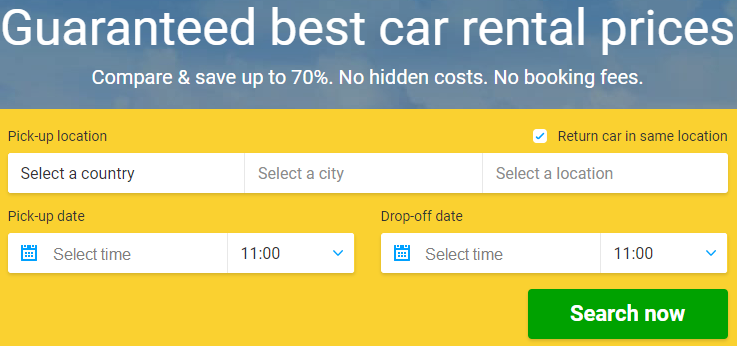 3 Good Reasons to Rent a Car in Dubai
Hiring a car in Dubai can be a great idea in at least 3 circumstances:
1) You like adventure and want to enjoy an unforgettable road trip through the breathtaking landscapes of the United Arab Emirates;
2) You like comfort, you want to enjoy Dubai to the fullest and in a flexible and exclusive way (I'm sure you will have a lot of fun… Dubai is the home of luxury car rentals!);
3) You are a large group of friends or a family, if you want to visit Abu Dhabi from Dubai (or the other cities of the UAE) renting a car allows you to save a lot of money compared to other solutions;
So depending on your needs you may wish to rent a cheap and reliable car, or a luxurious and powerful one!
However you have to consider these 3 simple things:
Public transport in the UAE is not very reliable (except urban transport in Dubai and Abu Dhabi), won't take you to all the places that are worth visiting and can make you waste a lot of time. Taxis are reliable, but they are not the best solution if you want to visit landscapes outside the main cities. By renting a car you can save a lot of money!
The UAE roads are in really good condition, they are safe and easy to drive, the signs are in English and Arabic and are easy to understand. Roads to desert or mountain areas often go through incredibly beautiful areas, and you may want to stop frequently to take pictures.
The UAE is the perfect place for a small road trip, from Dubai in less than a week you can visit all the most beautiful areas of the other emirates. Gasoline is very cheap, and you can choose to rent the perfect car for you at very affordable costs.
3 Reasons You Shouldn't Rent a Car to Visit Dubai
If you are a tourist visiting Dubai and are not planning to visit other cities (such as Abu Dhabi, Ajman or Fujairah) you may not need to rent a car.
At least you don't want to rent a beautiful, powerful, high-end car as part of your Dubai experience.
When you visit Dubai you can reach most things to see in the city by public transport or guided tours. In particular, the Hop On Hop Off Bus service is very convenient and is available both in Dubai and Abu Dhabi.
Dubai is a city designed for cars, but rush hour traffic can be terrible and getting around and parking in the more touristy areas may not be easy.
For excursions in the desert, off the main roads, it is better to rely on specialized operators, who have expert guides and professional drivers used to driving in the desert.
If you are an expat and live or work in Dubai, then you definitely need to rent a car! Dubai's traffic can be terrible, but moving between different areas of the city can be impossible without a car.
How much does it cost to rent a car in Dubai?
Renting a car in Dubai (or Abu Dhabi) is quite easy: there are several companies, competition is high and this keeps the prices quite low. However, it is better to rent a car only from well-known agencies that can guarantee safety, clarity and honesty.
Dubai car rental prices start on average from $ 60 a day for a cheap car, from $ 75 for an SUV and $ 110 for a van.
For luxury cars, prices start from $ 150 to over $ 500 for a Maserati, Lamborghini, McLaren or shiny Ferrari!
The prices can be very affordable if you rent a car for at least 3 days (it costs about three times less) and the maximum convenience is obtained for rentals of at least 1 week.
For rentals over 3 days, hiring a car in Dubai costs an average of $ 15 to $ 25 a day for a cheap and good quality car.
Renting a compact car for a week costs around $ 100-110 ($ 15-18 per day). For a family car the price is around $ 160. For just $ 30 a day, you can rent a large, comfortable SUV.
Prices can vary significantly depending on the time of year.
What insurance do I need when I rent a car in Dubai?
Basically you should need 3 types of insurance, of which only one is mandatory.
The compulsory insurance is the one for third party liability. When you book through Discover Cars, compulsory insurance is always included, and generally theft and CWD insurance is also included (which limits your liability for damage or theft to a certain amount).
In addition to these basic insurances, car rental companies offer other additional options that allow you to stay more relaxed, limiting liability for fairly common damage, such as scratches or tire damage.
If you book through Discover Cars you also have an advantage in this: in one click you can add a full insurance that allows you to enjoy your holiday without any worries.
In addition to these car-specific insurances, you should also protect yourself from the unpleasant consequences that an accident, even a small one, could have.
Bear in mind that medical care in the UAE is not free and can be very expensive. In case of need, you may have to pay for everything: rescue, transport, medical bill and medicine. This can also mean having to pay tens of thousands of dollars immediately, because according to local law foreigners are not allowed to leave the country without paying their debts.
However the solution is simple and affordable, you could get a good travel insurance, it is easy and for my travels it has always worked great, it covers medical expenses in case of need and also offers excellent coverage in case of theft or loss of luggage and personal belongings, as well as various guarantees designed specifically for travellers.
What are the requirements to rent a car in Dubai?
To rent a car in Dubai you must comply with the requirements established by law, which are strictly applied by car rental companies.
Minimum Age to Rent a Car in Dubai
The minimum age to rent a car in Dubai or Abu Dhabi is 21 years old and the license must have been issued at least 1 year before the rental.
Some car rental companies may require a different minimum age (from 23 to 30 years depending on the type of car). It is better to read the rental conditions carefully before booking!
Documents and Driving License Required to Rent a Car in Dubai
Tourists can rent a car by showing their passport (with a visa or stamp valid for the UAE) and a driving license.
For citizens of European countries (EU), of the Gulf Cooperation Council Countries (GCC) and for US citizens it is enough to have a national driving license.
In detail, the home country driving license is accepted for citizens of these countries: Australia, Austria, Bahrain, Belgium, Canada, China, Denmark, Finland, France, Germany, Greece, Ireland, Italy, Kuwait, Japan, Latvia, Lithuania, Luxembourg, Oman, New Zealand, Netherlands, Norway, Poland, Portugal, Qatar, Romania, Singapore, Slovakia, South Africa, South Korea, Spain, Sweden, Switzerland, Turkey, United Kingdom, USA.
If you come from Greece, Japan, South Korea and Turkey you will need to show a translation of your driving license certified by the Consulate (it is often easier to request an International Driving Permit).
If you come from other countries you need an International Driving Permit. Remember that the International Driving Permit is valid only when accompanied by your home country driving license, in original.
If you are a UAE resident (this is the case for expats who live or work in Dubai or another city in the UAE) you need a UAE driving license to rent a car in the UAE, regardless of your citizenship.
Credit Card and Deposit
Car rental companies require a deposit which must be paid when picking up the car. The deposit amount is normally calculated when you pick up the car, because it mainly depends on the car they give you.
It is important to have at least one credit card (Visa, Mastercard or American Express) with you, and that the name on the card is the same as the person requesting the rental. Some car rental companies also accept cash deposits, but often also require a debit or credit card as collateral. However I recommend you to use the card instead of cash, it is much safer.
What kind of car to rent in Dubai?
In Dubai you will see great sports cars everywhere. People here usually love renting big, luxury cars. Others prefer the elegance of a sports supercar. But don't worry, there is something for everyone.
If you travel on a budget: COMPACT OR FAMILY CAR
If what you need is a cheap and cheerful car, you can rent a small compact car, or a standard family car. They are practical, easy to park and cheap.
Perfect for a road trip: SUV
SUVs are the locals' favorite cars. They are comfortable, powerful, practical and fun. By renting an SUV you can travel for a long time without sacrificing comfort, you can explore the most hidden parts of the UAE and enjoy some off-road adventure. Gasoline is cheap and the rental price is incredibly affordable. So why not?
To distinguish yourself: LUXURY CAR
Dubai is probably the best place in the world to drive a luxury car. You can rent the best sports car models, at unbeatable prices. If you want to show your charm and your character, if you are a motor enthusiast, or if you just want to enjoy your Dubai experience to the fullest, a luxury car is the experience you absolutely must live at least once in your life when you visit Dubai .
What should I know before driving in the UAE?
The main roads of Dubai and the other emirates are generally in excellent condition, the signs are easily understandable and are translated into English.
The highways are wide (in Dubai almost all roads have 4-7 lanes), and the roads of the other emirates, although more modest, are safe and in excellent condition.
Be careful: on the highway, it may happen that some wild animal crosses your route (do not be surprised if it is a camel or a goat) or even people!
In the more remote areas (especially in the desert or in the mountains) you will find gravel roads and it is better to drive them in a 4×4 car.
Fasten your seat belts, respect the road signs and drive carefully. Otherwise it is almost certain that you will be fined!
Speed ​​limits
Watch out for speed limits! Checks are strict and frequent and on all main roads you will find speed cameras!
The speed limit signs are clearly visible, however normally the speed limits in Dubai are these:
Highways: Maximum 100 or 120 km/h and Minimum 60 km/h
Urban Areas: 60 km/h
Residential Areas: 40 km/h
Parking areas or service roads: 25 km/h
The speed limits may be different in the other Emirates (for example, two highways in the desert have been built in Abu Dhabi since 2020, with a speed limit of 160 km/h). Stick to the limits marked on the road. Fines range from $ 80 to $ 900!
Traveling with children
If you travel with children on board, remember that if they are between 4 and 8 years old, they have to sit in a booster seat. To sit in the front passenger seat, the child must be at least 13 years old.
Alcohol
Don't drink and drive. When driving in the UAE you cannot have alcohol in the blood. Zero. You face a fine of 20,000 AED (over $ 5,000) and you may even end up in prison.
Can I do a self-drive desert safari with a rented car?
Um, better not.
Usually this is prohibited by car rental companies, however consider that getting stuck in the desert sand is extremely easy.
The Dubai desert is large enough to require an expert guide who knows the area well, and a professional driver who is used to driving on the dunes.
Often people underestimate this and end up destroying the car and getting hurt. So my advice is not to do it.
Better to stay on the road, if you have rented a 4WD car you can have fun exploring hundreds of kilometers of gravel roads through desert and mountains and discover dozens of authentic and remote villages.
For the desert safari it is better to rely on specialized operators, who will allow you to experience the thrill of the dune bashing and spend a day discovering the desert and local customs. Find more tips for planning your Dubai Desert Safari here!
Can I cross the border and drive in Oman with my rented car?
This is a very important question! In just over an hour's drive from Dubai, you can reach the border with Oman and enjoy breathtaking landscapes.
With your rented car you cannot cross the border, therefore you cannot go to Oman. BUT… there is a way to do it!
First of all, you cannot cross the border without authorization. There are few car rental companies that, upon request, allow you to cross the border. If you use Discover Cars it is quite easy to find them, just look at the company's "Rental Conditions", you will find the link under each car listed.
You will need to ask the car rental company for authorization to travel with your rental car in Oman. When you collect your rental car in Dubai you will receive a sheet to be carefully kept and shown at the border crossing.
This sheet is called NOC (No Objection Certificate), is provided by the car rental company and certifies that you are authorized to drive the vehicle.
This leaflet, together with the car documents and a letter of authorization from the rental company, will allow you to travel to Oman.
Ask the rental company about the validity of the insurance, you may have to take out a different policy covering both Oman and the UAE.
In any case, don't worry, you can take out Oman insurance directly at the border for around AED 120 for a 7 day period.
The last issue concerns the visa for Oman: from 2019 the e-visa for tourists has been introduced, which replaces the simple visa on arrival. Check on the Embassy website what the requirements are according to your nationality, the procedure is generally not expensive or complicated if you come from the EU, UK, US, Switzerland, China or Japan.
If you enter from the Hatta border, you can take advantage of the free visa reserved for visa holders for the Emirate of Dubai. However, this is a paper visa, currently it cannot be requested online, but only at the consulate.
Just one last tip: consider that the times for the crossing of the border can be long (on average from 30 minutes to 2 hours) and remember to strictly comply with the requirements. Crossing the UAE-Oman border is not a piece of cake.
Can I rent a Ferrari in Dubai?
Sure! In Dubai you can rent a Ferrari or practically any luxury car you want. If your dream is to go around with a Lamborghini, a Porsche or an elegant Mercedes, Dubai is the perfect place for you!
Many people come here to rent a luxury car and enjoy a top vacation! This is due to the wide choice and the quite affordable rental prices. In addition, the service offered by the most well-known car rental companies is reliable and safe, which is important when renting a luxury car.
You can find the best deals on luxury cars on Discover Cars (here you can really find a huge choice!) or on Rentalcars.com which is also an excellent site for booking safe car rentals at the best price.
What are the best road trips I can do with my rental car in the UAE?
The UAE is an excellent place for a nice road trip! The country is quite small, so you can explore it in less than a week (plus at least 3-4 days in Dubai and 2-3 days in Abu Dhabi).
I am a big lover of road trips, I love the feeling of freedom and the opportunity to explore the most hidden corners of a country. Renting a car gives you a lot of freedom, you can go and stop when you want and where you want. This is crucial for me, because I like taking nice pictures and therefore I like to stop often on the sides of the road, in small villages, or whenever I feel inspired.
This is why I have dedicated an entire section of this blog to "On The Road" travel through the UAE. You can thus discover all there is to see and do in the other emirates, for a journey to discover authentic and wonderful places.
When you rent a car in Dubai these are unmissable destinations where you absolutely must go:
Abu Dhabi
The capital of the UAE is a modern and vibrant city! You can't miss the Sheikh Zayed Grand Mosque, the Louvre Museum Abu Dhabi and the theme parks of Yas Island.
Fujairah
Explore the mountain area around Fujairah to discover the most remote corners of the country. You will discover ancient mosques, castles and picturesque villages.
Ras Al Khaimah
The emirate of RAK is particularly appreciated by nature and mountain lovers. With your rented car you can go up to the Jebel Jais, the highest mountain in the UAE where you can experience the thrill of the longest zipline in the world.
Al Ain
One of the most scenic routes is the one that leads to Al Ain, a wonderful oasis in the desert. In this village you can spend time exploring the mountains, relaxing at natural springs and visiting fortresses and gardens.
Hatta
On the way to Oman you can reach the border village of Hatta, nestled between mountains and dramatic panoramas. Hatta offers a taste of real local life and there you can visit the characteristic lakes which represent some of the main water reserves in the country.
So, is it worth renting a car in Dubai?
Absolutely yes. Renting a car in Dubai allows you to fully enjoy the breathtaking landscapes found in the most remote areas of the country.
You can also easily visit other UAE cities, such as Abu Dhabi, and if you are a group of friends or a family, by renting a car you will save a lot of money.
I do not recommend renting a car just to visit the city of Dubai, because it turns better by public transport or with the excellent Hop On Hop Off service. Less traffic, less hassles and you enjoy it more.
As for the main things to do in Dubai, such as the desert tour, it is best to book it with a specialized operator to enjoy it to the fullest and safely.
Renting a car in Dubai is a great choice if you want to enjoy an unforgettable road trip to discover the other 6 emirates that make up the UAE.
Dubai car rentals offer a wide selection of cars and prices can be particularly advantageous. You can find the best car rentals and the cheapest offers on Discover Cars, which is particularly safe and reliable. Alternatively you can have a look on Rentalcars.com which is another excellent site to find good car rental offers at unbeatable prices.
Are you planning your trip? These tips may come in handy:

THINGS TO DO AND SEE IN DUBAI
USEFUL TIPS TO KNOW BEFORE YOU GO TO DUBAI
USEFUL ADVICE ABOUT TRAVEL INSURANCE FOR DUBAI